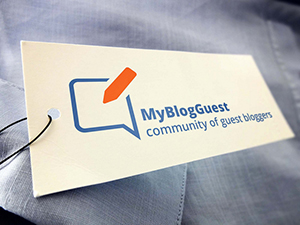 Guest blogging, writing a blog post for another blog site, can be a great way to build your brand and drive traffic to your site. While it doesn't factor into search engine rankings as much as it once did, it still has a lot of benefits. Bloggers tried to outsmart the search engines by manipulating guest blogging, so Google and others frown on the practice if it's being done to for that reason alone. Check out this article that covers more about Google's response: http://whyistartedablog.com/guest-blogging-dead/.
What Are the Benefits of Guest Blogging?
#1 ) Increase Your Web Presence
If your post makes it onto another blogger's site, especially one with a high traffic volume, you immediately gain more web exposure. The guest site's readers may never find your blog on their own, but if they see your name and blog site on a site they normally visit, your post and name have just been viewed by significantly more people.
#2) Establish Your Credibility
If you're new to blogging or having trouble attracting visitors to your blog, guest blogging is a great way to show readers you're knowledgeable in your niche / industry. Provide readers with content they find useful and valuable and they will be more likely to click the link to visit your site. In addition, readers will assume the guest site blogger is validating you and your content — otherwise, he or she would have passed on your guest post.
#3) Cultivate Networking Opportunities
Like any industry, bloggers can benefit by building and maintaining relationships with other bloggers, even if they may be competitors. Your host blogger will likely share your post on social media, further increasing your exposure and opportunities to build relationships with readers and other bloggers.
Guest Blogging Tips
#1) Choose Your Sites Carefully
While you may feel compelled to guest blog for anyone who will take you, spend some time researching blog sites that appeal to your same target audience. Avoid wasting your time writing posts for sites whose readers will likely have little interest in your blog topics. Look for sites with a lot of reader engagement.
#2) Find a Compelling Topic
Spend some extra time researching the site you want to target and try to find a topic that would appeal to its audience, but hasn't been covered already — or find a different angle on a covered topic. Make sure it provides some kind of value to the reader.
#3) Write a GREAT Post
You know more readers are going to see this post, so make sure you write it well — triple proofread your post, make sure it has a compelling headline, use headers and subheads to break up text and include an interesting image. If you write a stellar post, you'll gain establish credibility, gain more traffic to your site and be invited to guest post more often.
Now you're on your way to becoming a great guest blogger!